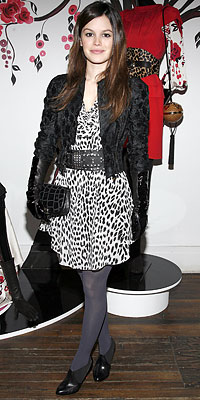 Rachel Bilson is an popular American actress who is well-known to the media as a "fashion junkie". Her eclectic sense of style combines vintage, Bohemian and modern for an fabulously stylish look that's difficult to emulate.
When Rachel stepped out at Fashion Week, her outfit did not disappoint. Showing her appreciation for classic looks, Rachel slipped into a long, luxurious pair of black leather gloves. The ladylike leather gloves were the perfect accompaniment to her edgy, elegant leopard print dress. Rachel added a cropped black blazer, dark stockings, croc clutch, rocker belt and cute booties for a unique, eye-catching look on the cutting edge of the fashion scene.
Rachel's alluring look is easy to imitate. Slip into a leopard print dress, add a luscious pair of leather gloves to the elbow and top it off with a fabulous cropped blazer. This outfit is perfect for day or evening because of its diversity and formality. Every woman needs a pair of long
leather gloves
to perfectly compliment her favorite spring dresses.